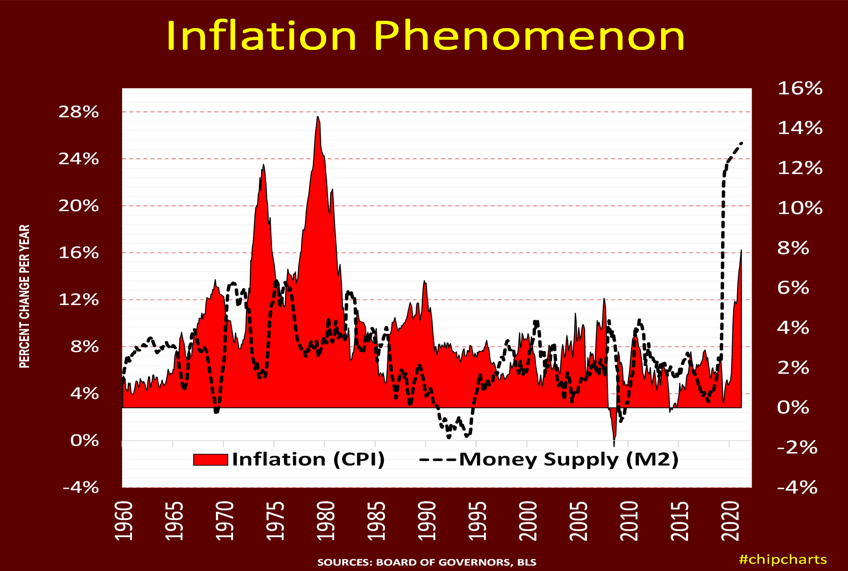 𝑴𝒐𝒏𝒆𝒕𝒂𝒓𝒊𝒔𝒕 𝑽𝒂𝒄𝒄𝒊𝒏𝒆?
Once upon a time, way back in February 2021, our "non-partisan" Congress authorized the use of the FED's experimental drug "printing tons of money." The #FED began injecting its version of the Covid-19 vaccine posthaste. The purpose of the FED's potent elixir was to rehabilitate the world's leading #economy (not FDA approved).

𝑫𝒓𝒆𝒔𝒔𝒆𝒅 𝒕𝒐 𝒕𝒉𝒆 𝑵𝒊𝒏𝒆𝒔
The Fed's initial inoculation commenced henceforth, amounting to $1.1 trillion in purchases of treasuries and mortgage-backed securities. Open market buying averaged $191 billion over the next 25 months. The Fed bought $4.8 trillion worth of the stuff, in turn swelling its balance sheet to a "dressed to the nines" trillion.

𝑺𝒑𝒐𝒐𝒏𝒇𝒖𝒍𝒔 𝒐𝒇 𝑺𝒖𝒈𝒂𝒓
The dosages of the Fed's medicine went down like spoonfuls of sugar with Washington, Wall Street, and Main Streets singing, "Merrily, merrily, merrily, life is but a dream."

𝑴𝒐𝒕𝒉𝒆𝒓 𝑲𝒏𝒐𝒘𝒔 𝑩𝒆𝒔𝒕!
Well, everyone knows that one slice of cake is delightful on special occasions. The problem arises when one opts for the second, third, and fourth slice. When a child delves in they get a sugar jolt. When children overindulge their tummy aches. If they eat sweets too often their teeth can get cavities. If candy and cookies are daily staples – disease can and may ensue.

#chipcharts
Disclosures: Any views, thoughts, and opinions pertaining to the subject matter presented in this post are solely the author's subjective opinions, and do not reflect the official policy or position of 1st Discount Brokerage, Inc. Information is for educational purposes only and does not intend to make an offer or solicitation for the sale or purchase of any specific securities, investments, or investment strategies. Investments involve risk and are not guaranteed. Past performance is no guarantee of future results. Any examples, outcomes, or assumptions expressed within this article are only hypothetical illustrations and should not be utilized in real-world analytic products as they are based only on very limited and dated open source information. Dollar-cost averaging, diversification, and rebalancing strategies do not assure a profit or protect against losses in declining markets. Asset allocation and diversification do not ensure or guarantee better performance and cannot eliminate the risk of investment losses in declining markets. Assumptions made within the analysis are not reflective of 1st Discount Brokerage, Inc. nor its personnel. 1st Discount Brokerage, Inc. is a licensed FINRA Broker-Dealer and Registered Investment Advisor. Securities offered through 1st Discount Brokerage, Inc., Member FINRA/SIPC.