Consumer price inflation is running at a scorching hot 8.5%. The global stock market index is down 14.7%, and bonds are minus 10.1% year-to-date.
Is Reflection in Order?
The 1968-1982 era was a tumultuous time in stock market history, and the DJIA was more like a see-saw where declines summarily followed advances. During this span, the Dow fluctuated between 577 and 1051. Why? Because insidious inflation averaged 7.6%, nearly quadruple the Fed's current 2% target. As expected, traders ruled the day, espousing that investible assets are too volatile to hold long-term. Were they right?
Deja Vu
Take a look at the inflation column (red dash borders). Each year during this span, inflation raised prices for consumers and operators at record levels. Inflation was gnarly, and the DJIA chart paints the picture. Notice how it waxes and wanes just enough to keep shareholders on their rollercoaster to nowhere, "allegedly." Inflation soared 12.3% in '74, stocks sank 30%, and on a hot summer day, August 9th, the President of the United States was impeached from office (deja vu). The mood of America was quite dour.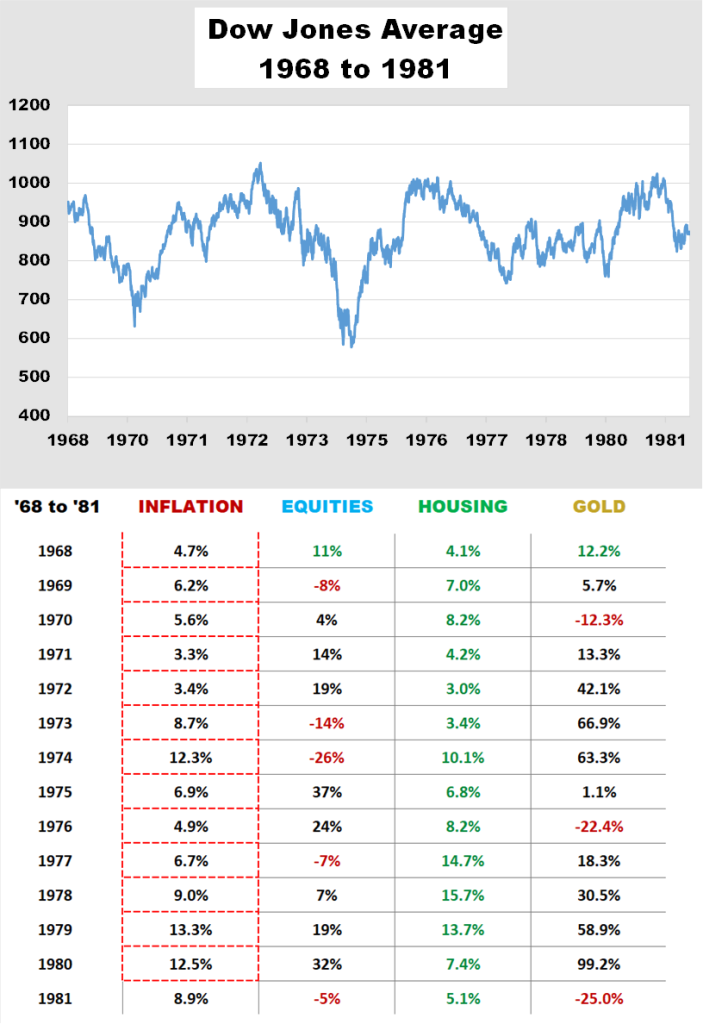 But wait! It is always darkest before dawn. Alas, follow the money!
Indeed, the bear market in stocks was mauling. Yet, if I may add factual input, diversified investors with holdings distributed in cash, housing, and gold made money! And, I have even more financially rewarding news, stocks rallied 37% (including dividends) in 1975, followed by cash, residential housing, and the precious metal each in the plus column.
The adage, "it's not about timing the market, but about time in the market," has been pointed out repeatedly. Those who maintain a well-diversified investment portfolio across real and financial assets may be justly suited to capitalize on market turning points over the long haul.
Acknowledgments: I am here to serve investors seeking solutions to their money management endeavors. 1DB Asset Management (1db.com) is a community-based investment firm competing against financial conglomerates. As a small business, we appreciate and rely on your patronage.
Yours in Financial Fitness,
William Corley
Any views, thoughts, and opinions pertaining to the subject matter presented in this post are solely the author's subjective opinions and do not reflect the official policy or position of 1st Discount Brokerage, Inc. Information is for educational purposes only and does not intend to make an offer or solicitation for the sale or purchase of any specific securities, investments, or investment strategies. Investments involve risk and are not guaranteed. Past performance is no guarantee of future results.
1st Discount Brokerage, Inc. is a licensed FINRA Broker-Dealer and Registered Investment Advisor. Securities and services are offered through 1st Discount Brokerage, Inc., Member FINRA/SIPC.