Welcome to the world, Bucky!
On October 13th, the S&P 500 fell to an intraday low of 3,491.58 from its peak of 4,796.56 on January 3rd; the market was down 27.2%. The news that Thursday morning was a gut punch for our economy. Core inflation confounded analysts and soared to its highest level in forty years! Traders instantly hit the sell button and dumped stocks at the opening bell indiscriminately. Every headline painted a dire picture, and it seemed as if the bottom was about to fall out of the market.
But then something strange happened →
Buyers began to step in to quelch the carnage and then ate it up! From the previous day's close, the market moved a total range of over 7%; by 4:00 PM, it was up 2.6% for the day.
What caused this sudden change in market sentiment? It's hard to say for sure, but one thing is certain: the market had found its footing and was no longer in freefall.
This event marks the beginning of what could be the end of the baby bull calf's gestation period and the birth of something beautiful. According to the Institute of Agriculture and Natural Resources new bull calf's birth cycle lasts between 279 to 287 days, or 283 days to be precise.
Drum roll here →
On October 13th, the period of the downturn that started on January 3rd was exactly 283 days! So, if fate continues to play its hand and our newborn calf can learn to stand and walk and charge on its own two feet, then we may have a new bull market born.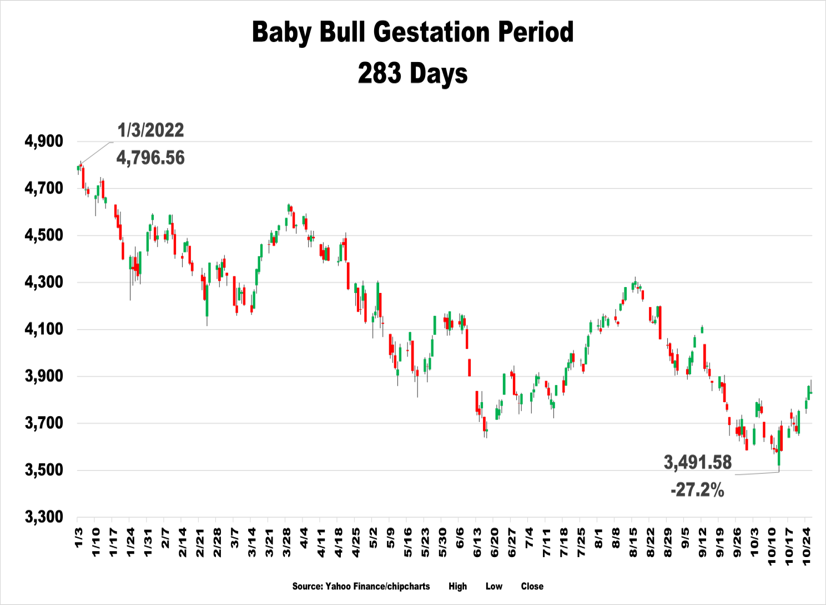 A bull market is defined as a 20% rise from the bear market closing low point. This baby bull is only 7% old, so the little fella has a ways to go. While there have been several false starts over the past few months, this 283-day-in-the-making baby bull is starting to look like it could snort.
So how can you tell if a new bull market is really here?
This sudden turnabout in the market left many investors scratching their heads in confusion. What could possibly explain such a rapid shift from panic selling to earnest buying? Fear. Fear of the following and fear of FOMO.
Fear of calamity Fear of inflation
Fear of volatility Fear of recession
Fear of democrats Fear of republicans
Fear of national debt Fear of deglobalization
Fear of earnings collapse Fear of nuclear holocaust
Fear of market malfunction
Fear of the wrong decision
Fear of losing more money Fear of retirement shortfall
Fear of international conflict
Fear of currency devaluation
Bull Markets are born on pessimism. Pessimism is high and widespread but apparently not unanimously so. Fear remains steadfast in the driver's seat, and it takes a lot to convince people that things will get better. The market has been tanking all year, and it will take more than a few good days to convince people that we're in a new bull market.
An important thing to remember is that the market is a discounting mechanism, and it is constantly trying to price in future events. So, if the market is starting to believe that things will improve, it may be right.
Of course, this is not a sure thing, and the market could just as easily turn around and head back down. But, if you are looking for a reason to be optimistic, then this is it. The market is finding its footing and is no longer in freefall. The baby bull calf is alive and well and starting to make its way into the world. All we can do now is watch and wait to see if it can make it on its own.
What do you think? Is this the beginning of a new bull market, or is the market just taking a breather before heading back down?
P.S. The baby bull's name is Bucky.
Disclosure: any views, thoughts, and opinions expressed within this communication contains subjective opinions, and do not reflect the official policy or position of 1st Discount Brokerage, Inc.
Information is for educational purposes only and does not intend to make an offer or solicitation for the sale or purchase of any specific securities, investments, or investment strategies.
Any examples, outcomes, or assumptions expressed within this communication are only hypothetical illustrations and should not be utilized in real-world analytic products as they are based only on very limited and dated open source information.
Investments involve risk and are not guaranteed. Past performance is no guarantee of future results.
Securities offered through 1st Discount Brokerage, Inc., Member FINRA/SIPC.
A Registered Investment Adviser.