In 2007, before the financial crises with real estate prices and stock values increasing, I purchased a new car. For fifteen years prior to this point, I had been a loyal, satisfied Lexus car owner and driver. As my Lexus sedan aged, it was time for a new vehicle, and I had the itch for something different. After test driving several high-end selections, I decided on the Mercedes S550. My friend was the manager of fleet sales and offered me a "fair deal" on the new Benz; I drove it off the lot.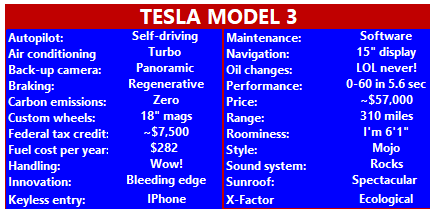 Fast forward eleven years and I am still driving that car today – but at what expense? By 2017 my 130,000-mile vehicle had become convalescent. For a decade, I had all service work completed at the Mercedes dealership at a cost that would have put one of my children (maybe two) through college. Why? The answer is simple. I figured each time, erroneously, that once my car was fixed, it would stay that way for an indefinite period. Boy, was I wrong. In the past 18 months, I've had to take my vehicle in for repairs almost every other month. There was always something else malfunctioning: struts, motor mounts, sensors, other sensors, transmission, engine gunk, warning lights galore, trunk latch, and more.
A week ago Friday, I was back at the repair shop to have a headlight bulb replaced. As it turns out, the wiring was corroded, and the "bulb replacement" that would normally cost less than $100 was estimated at $1,600! That was the straw that broke the camel's back, my back! It was time to get another car. Buying an automobile takes time. My hectic schedule limits any of my extra time, which was one of the reasons I kept the Benz for over a decade. To expedite my decision, I narrowed down my choices to a Lexus, another Mercedes, or a Tesla.
I contemplated my history; I ruled out another Benz, as I was fed up with the mysterious servicing costs. It was time to test drive the Lexus. Toyota has never let me down, and I have found the brand to be most reliable. So, there I was at the Lexus dealership and it just didn't work for me. I didn't get the warm, fuzzy feeling in my stomach that needs to be there when it comes to buying a new car. The Tesla was next. I did my homework on the Tesla Models: X, S, and 3. There is a marked difference between the styles and prices of the different makes. I ruled out the X, because I wanted a mid-size vehicle. I subsequently decided to test drive the Sport Series S, the Performance Model 3, and the Base Model 3.
My sales representative in the Boca Raton store was sharp and knew her product like a pro. She encouraged me to take as much time as I needed to get acquainted with the Tesla selections. After spending well over an hour discussing the vehicles, it was time to test drive my choices. In short, the S felt more like a powerful muscle car (hubba hubba), and larger than I desired for an all-around city driving vehicle. The Performance 3 was everything it had claimed to be: fast, quick, and tight; to me, it is a sports car. Lastly, I took the Base Model 3 out for a spin. I loved the car instantly! It too was quick, agile, and turned on a dime. It was comfortable, quiet, roomy, stylish, high-tech, sporty for a middle-ager, and fun. The car is badass! My new Tesla Model 3 is expected to be delivered within 2 to 4 months. I am excited about my new purchase and believe the Model 3 experience will add a wow factor to every day's drive.
Mr. Elon Musk is this era's, Henry Ford. His vision is unparalleled. The manner of his execution is off the charts. Mr. Musk lays it all on the line. He is a remarkable entrepreneur and a courageous warrior. His critics slight his moves at every turn and his loyalists see him as a liberator. Realists, those who measure his engineering works of art, buy his products. As a new member of the Tesla family, I hope to one day visit Tesla's manufacturing facility and share a toast with Team Tesla and "The Man on a Mission," Elon Musk.
IMPORTANT DISCLAIMER: The opinions made herein are for informational purposes and are not recommendations to any person to buy or sell any securities. The information is deemed to be reliable but its accuracy and completeness are not guaranteed. 1st Discount Brokerage does not accept any liability for the use of this column. Readers of this column who buy or sell securities based on the information in this column are solely responsible for their actions. Investors/traders are advised to satisfy themselves before making any investment. Nothing published on this site/ article should be considered as an investment advice. It's not an offer to buy or sell any security. Readers are solely responsible for their profits or losses.