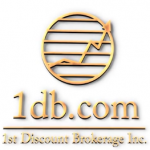 1DB offers a modern digital advisory solution. Our saving and investing platform empowers working folks by enabling them to have their money professionally managed starting with as little as $1. 1DB's digital advisory utilizes a hybrid approach to investing and wealth management by blending human insight, ingenuity, and know-how with computerized algorithms to efficiently allocate capital according to each person's goals and preferences. ROBO is 1DB's acronym for:

—Return-on-Investment
—Optimized Portfolios
—Balanced Assets
—Open Access.

ROBO enables anyone to invest in stocks, bonds, and real estate globally by way of exchange-traded funds. To begin investing in yourself go to 1db.com  and click the pic of William and Michael or click here to open an account.
–Team 1db.com
8927 Hypoluxo Rd A-5 Lake Worth, FL 33467
Phone: (561) 515-3200
Email: robo@1db.com
This email may be considered advertising under federal law.
This information is intended to be educational and is not tailored to the investment needs of any specific investor.
Investing involves risk. The value of your investment will fluctuate over time and you may gain or lose money. Asset allocation and diversification cannot ensure a profit or protect against loss.
ETFs are subject to market fluctuation and the risks of their underlying investments. ETFs are subject to management fees and other expenses. Unlike mutual funds, ETF shares are bought and sold at market price, which may be higher or lower than their NAV. ETFs are redeemable only in creation units and may not be individually redeemed. Before investing, consider the investment objectives, risks, charges, and expenses of the ETFs. Stock markets are volatile and can decline significantly in response to adverse issuer, political, regulatory, market, or economic developments. In general, the bond market is volatile, and fixed income securities carry interest rate risk. (As interest rates rise, bond prices usually fall, and vice versa. This effect is usually more pronounced for longer-term securities.) Fixed income securities also carry inflation risk, liquidity risk, call risk, and credit and default risks for both issuers and counterparties. Unlike individual bonds, most bond funds do not have a maturity date, so holding them until maturity to avoid losses caused by price volatility is not possible.
Advisory and brokerage services offered through 1st Discount Brokerage, Inc., Member FINRA, SIPC, a Registered Investment Advisor.
To stop receiving email from 1DB, please contact us by email robo@1db.com.