Let's say that you have decided to build your dream home, and you have all the money you need to make it happen. Your dream home may peer out over the Pacific Ocean, or perhaps you prefer living near a mountain top with a breathtaking view. It is your life, and you can choose whatever you desire. Again, this is the house and grand estate of everything you've always wanted. So, you will need to hire the best of the best to design, prepare the site work, build, decorate and landscape your magnificent new home. You would hire the best architect, interior designer, contractors, and the like to make your dream a reality. It's as important to be diligent in your search for a financial advisor and choose wisely.
Household Assets and Net Worth have made a quantum leap over the course of one year, increasing $18.7 and $18.1 trillion, respectively. The magnitude of the wealth advance during this brief span is unparalleled. Financial assets, specifically the stock market has soared in price $11.2 trillion from its March 2020 bottom (source: Federal Reserve). Real estate, consumer durables, pensions, private enterprises, and other assets have witnessed substantial growth in personal prosperity, for some.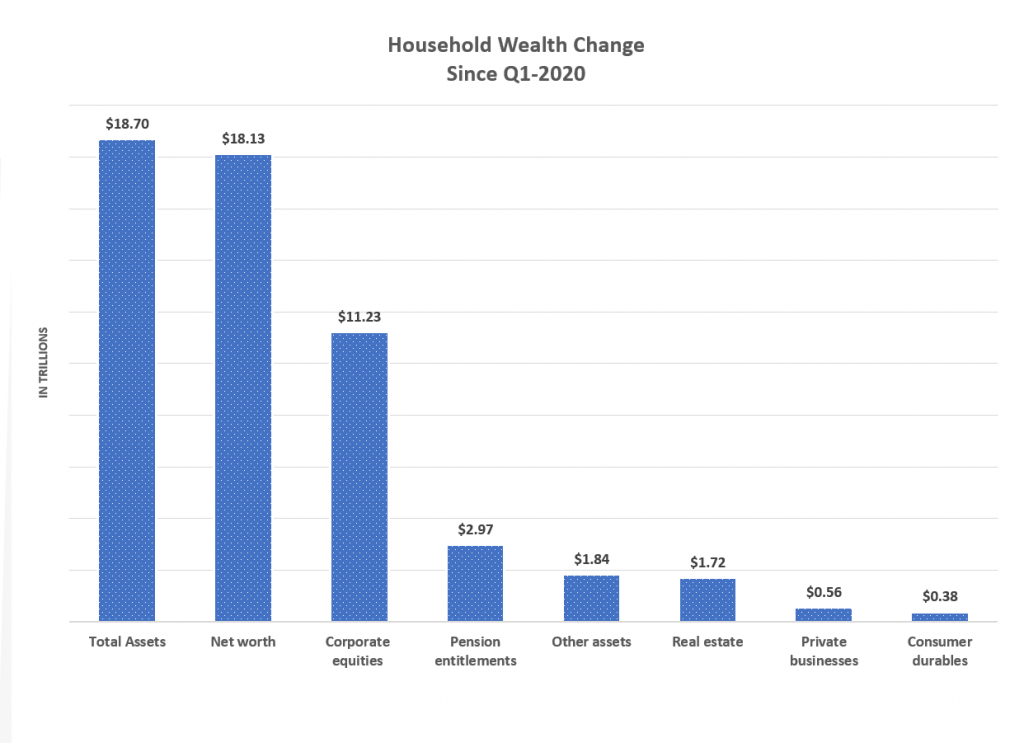 Readers of my posts are aware that the methodology I employ to investing and allocating assets encompasses the top-down approach. I focus my attention and studies on the big picture, vis-a-vis the macroeconomic data. I propose prudent investors aim to allocate their investments so they are positioned to participate during economic cycle advances. There is an old adage, "a rising tide lifts all boats," which means by being invested with a diversified portfolio the odds are in your favor to succeed. This has been the case over the long-term and in recent history. Over the past 13 months, the tide has risen and there has been a noticeable tailwind that has swiftly lifted asset values and net worth for market participants owning quality financial and non-financial assets.
I recognize that the surfeit of monetary and fiscal stimulus favors both financial and non-financial assets, and there has been more money than ever before chasing limited investible options. This situation has dwindled the margin-of-safety seasoned investment professionals are generally accustomed to expect for the risk they are taking. So, is there something beneficial we can learn to limit undue capital exposure from this meteoric increase in asset values and net worth? I advise, as the investment mosaic becomes blurry, or less decipherable, that risk-averse investors err on the side of caution.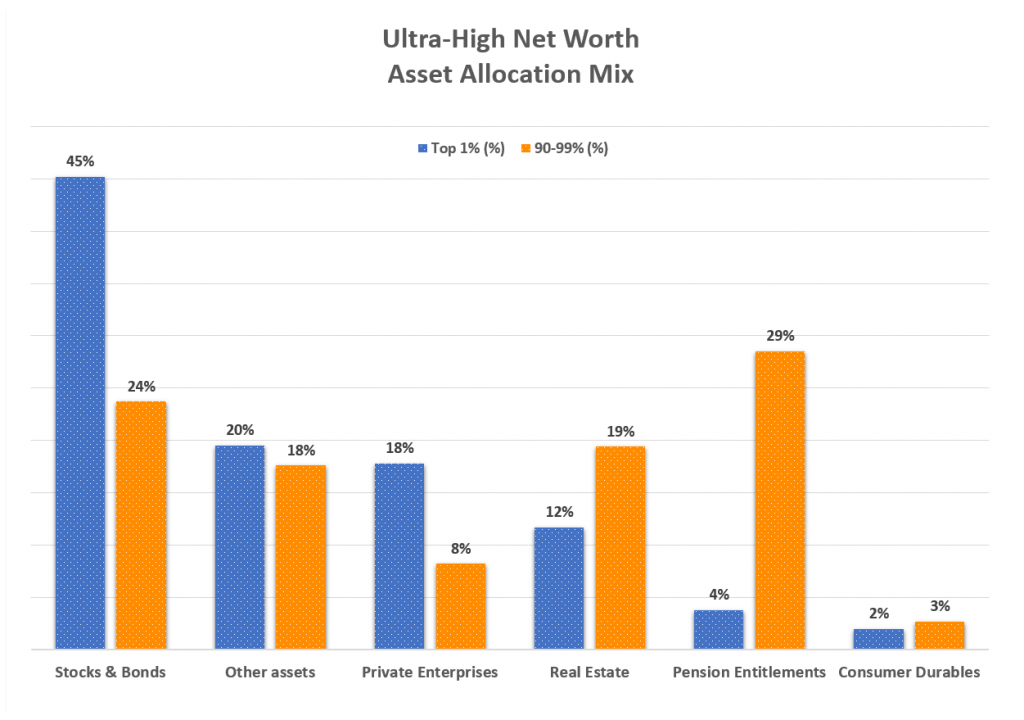 Now, let's turn back to the dream home we are building; in this story, our dream home is an analogy for our dream life. In our ideal real life, the dream is to attain and sustain financial well-being and personal peace of mind. For working-class savers and investors, I suggest observing the well-trodden path taken by the affluent who have obtained and control most of our nation's wealth. Pay attention to where they are investing their money. Then, assess if their way of investing makes sense to you. Perhaps it should. Next, consider utilizing a technology-based digital advisory platform (1db.com) that will do this for you automatically on your behalf. Next, think of hiring me/1db.com as your professional money manager. Or, ask your own financial advisor, if you too, can allocate your hard-earned investible sums regularly, and similarly, in a manner similar to the ultra-high net worth investors. That is, the top 10% richest individuals in America. This elite group controls 64% of all assets. #FollowTheMoney
Disclosures:
Any views, thoughts, and opinions pertaining to the subject matter presented in this post are solely the author's subjective opinions, and do not reflect the official policy or position of 1st Discount Brokerage, Inc. Information is for educational purposes only and does not intend to make an offer or solicitation for the sale or purchase of any specific securities, investments, or investment strategies. Investments involve risk and are not guaranteed. Past performance is no guarantee of future results. Any examples, outcomes, or assumptions expressed within this article are only hypothetical illustrations and should not be utilized in real-world analytic products as they are based only on very limited and dated open source information. Dollar-cost averaging, diversification, and rebalancing strategies do not assure a profit or protect against losses in declining markets. Asset allocation and diversification do not ensure or guarantee better performance and cannot eliminate the risk of investment losses in declining markets. Assumptions made within the analysis are not reflective of 1st Discount Brokerage, Inc. nor its personnel. 1st Discount Brokerage, Inc. is a licensed FINRA Broker-Dealer and Registered Investment Advisor. Securities and services offered through 1st Discount Brokerage, Inc., Member FINRA/SIPC.